ITC is selected as ESG Emerging Company of the Year 2023 by Thaipat Institute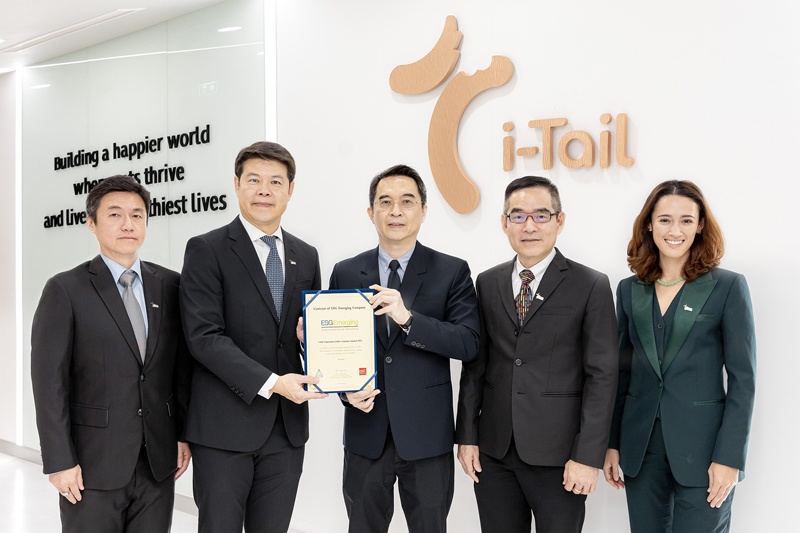 i-Tail Corporation (ITC) was selected as ESG Emerging Company of the Year 2023 for their outstanding Environmental, Social and Governance (ESG) performance and subsequently recognized as a sustainability-admired investee company in the food & beverage sector by Thaipat Institute.
ITC ranks as one of the 15 listed companies on the 2023 ESG Emerging list and joins the ESG100 universe for the first time this year (2023) out of 888 companies/funds/trusts across 36 industries assessed by the Thaipat Institute. With sustainable and responsible practices in business operation, ITC commits to building a happier and healthier world for our furry friends, society as well as the environment in order to build trust and generate long-term returns for investors.
Khun Pichitchai Wongpiya, CEO of i-Tail Corporation said, "We, the company, would like to express our appreciation to Dr. Pipat Yodprudtikan, Director, ESG Rating Company a whole subsidiary of Thaipat Institute for recognizing our core principle in maintaining sustainable business growth while being keen to invest in socially and environmentally responsible. Through SeaChange®, the global sustainability strategy of Thai Union Group with the focus on sustainability commitment toward 2025 with the concept of Healthy Living, Healthy Oceans, we thrive our business by producing the highest quality of pet recipes that meet the nutritional and palatability requirements and enhance the health and happiness of pets along with being responsible for investors, business partners, community and environment sustainably"
THAIPAT's ESG Rating Unit, a Thailand pioneer of corporate sustainability assessment, has evaluated the Thai publicly listed companies on their Environmental, Social and Governance (ESG) factors from the ESG100 list since 2015 and the ESG Emerging list since 2020.
ESG Emerging list is to recognize promising ESG performers on the Thai stock market and to support investors who consider investing in sustainability-responsible firms that can generate long-term returns as potential lucrative investments.